"I'm obsessed with you, angel. Addicted to you. You're everything I've ever wanted or needed, everything I've ever dreamed of. You're everything. I live and breathe you. For you."HOLY FUCKING SHIT !!!!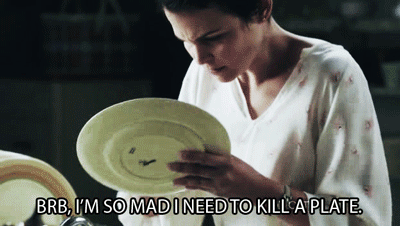 If I had to rate this book based on its characters , I would have given it a
5 star review
for Gideon and a
1 star review
for Eva . She infuriated me to no ends .. Period !
Reflected in you picks up exactly where Bared to you left us , Gideon and Eva have crossed another catastrophic obstacle and are working towards getting themselves at a better place . Unfortunately , trouble follows them around like a moth to the flame . Gideon is still secretive about this past , even though Eva has bared her soul to him . Will Eva and Gideon get past those troubles or will they drift apart ???
So , what do we know and what have we learned from this book ???
Eva still is an idiotic mess ! She hasn't given up on her jump-on-conclusion-to-prove-a-fancy-ass-point trait yet ! I mean seriously , I get it that she's had a traumatic childhood and that nobody , especially a child , should have to endure it ever ..... BUT ... For pete sake's she can be a little more trusting when it comes to Gideon ! I mean , she goes on to paragraphs and paragraphs about she's going to fight for the 'US' she talks about , but good lord .. when the going gets though she fucking drags her ass as soon as she can ! So much for talking about working shit out !
Gideon ...
SWOOOOOOOOOOOOOOOOOOOOOOOOOOOOOOOON
.... Gideon ! Ummm , wow ! That's the kinda love one can die for .. Sure , there are issues , but whats love without problems ! And his past had me crying !
Things are definitely heating up .. Cant wait to see where its going to lead Eva and Gideon !!!