Bold Tricks
"Never," he said, his voice gruff, his hips stopping their thrusts and grinding into me.
"Never what?" I murmured, one of my hands sliding down his back, the other one went into his hair.
"Outside my bike, never has anything important in my life been just mine."
My body stilled, so did my heart, and my eyes locked with his.
He started moving again, slowly, deeply and he kept talking. "Always castoffs, leftovers, used, sometimes even food from dumpsters."
My heart started beating again, only to trip over itself; my breath came fast, not only from what was happening to my body but what he was saying.
"Vance –"
His lips came to mine, his hands moved out of my hair and went to the sides of my face and he stared in my eyes, pressing deep inside.
"Mine," he muttered, his deep voice hoarse, that fierce undercurrent there.
His tone caused a shiver to run through me, straight through to my soul.
Then he kissed me.Oh my good lord ...... !!!!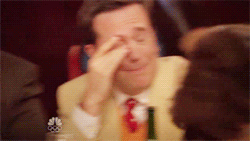 Vance is my herooooooo !! I absolutely lurve him .

Kristen Ashley is just brilliant . Starting this book , I was like , Ummm how will things be different in this one ... ? But then BANG! Kristen Ashley delivers another hit !

Jules is a badass mofo'ress ! Like , damn that girl is good !!! Loved her ...

Cried my ass off , laughed my ass out , melted my panties right off its place and ... and ... Well just read the book !!! :D