"One day I'm going to touch you in a thousand different ways and show you how to touch me." Dean slid his hand around the back of my neck. "But right now we're just going to make out."
A few minutes before I reached the ending of this book ...
A few moments later , when the end was near ..
And finally when the ending struck like a lightening strike out of no where ...
And then finally it was ...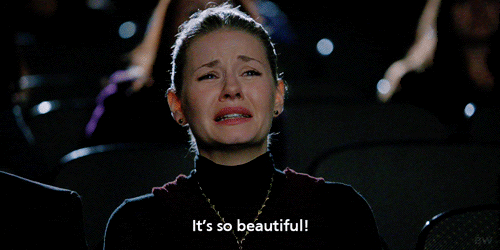 Ah Nina Lane , you've really struck a gold with this one on my heart .
I want to do with you what spring
does with the cherry trees — Pablo Neruda
This is one of my favorite Pablo Neruda quotes ever , and the fact that they made the opening lines of this book really made my heart warm up . That particular line means a lot to me , so the moment I read it here , I was a total gonner !!! In my heart , I kinda knew that I was going to end up liking this book . And lo behold , I did ! In fact I loved it !!! * sighs happily *
Arouse , for me is a story of a ' Happily ever after' gone bad . Let me explain . This book begins with the reader getting s glimpse in the married life of Olivia and Dean west . Olivia and Dean love each other , to the moon and back . They are all they have . But then one day Olivia losses her job . That one particular incident forces Olivia/Liv to question her decisions in life .
And if that wasn't enough , a pregnancy scare only adds fuel to the fire of indecision burning in her .
Dean is a professor of medieval history . Accomplished , dedicated , loyal and honest , he has eyes only for Liv .
"Since the day we met, I haven't wanted anyone but you," Dean says . My heart jumps a little.
"Never looked at another woman," he continues. "Never thought about one. It's always been you, Olivia."
But Dean has a little secret . A secret that has the intensity and the power to break everything apart . Everything that he and Liv have worked for and built together . And its not just Dean and his secret . Liv and her insecurities , doubts and assumptions have the same destructive power over their relationship . What will become of Liv and Dean ? Will they succeed in protecting and saving their relationship ? Our will they succumb to the mess that's waiting to tear them apart ??
Okay , I really do a crappy job in summarizing a story , so please forgive me for that ! Because I think I haven't quite managed to bring out the beauty of this story . But I absolutely think , that this book is just sooo good that its worth a shot ! Soo please pick it up and read it !!! * pretty please with a cherry on top :) *
I've fallen in love with this book . No doubt about that . 2 reasons why :
Firstly , its about a married couple ! I mean I haven't read a lot of books about a married couple . For me , most of my reads have started from college going kids falling in love and then going through hell only to find their HEA .. By the time they are married , the book is finished ... over ! And secondly , if authors do begin their story by introducing us to a married couple , then I hardly find any chemistry between them . Because all the 'falling in love' thing has been done with ! But not here .. Arouse is divided into 3 parts . Part 1 deals with the intro of Dean and Liv , their life , a bit of their past , and that little incident that changes it all . Part 2 deals with the implications of that little incident and Dean's secret . Part 3 deals with Liv and her little mistake and the implication of that on her relationship with Dean . Also , them trying to work hard to get over those matters and go back to being the people they were , who loved each other like forever !
Nina Lane has created a very intricate and a delicate story of love and loss . She weaves a story of a journey of a married couple who stumble upon a rough patch in their happily married life . Their lack of communication , inability to share their thoughts with each other only makes things worse . They think being intimate through sex can undo the damage that has already made a hole in their sphere of happiness , but such is not the case .
The story is beautiful , the characters are flawed ..
Liv has suffered through her childhood , never had the happiness she has craved .. But meeting Dean changes all that ..
He is her knight in a shinning armor .
"Liv," he said, his voice rough with tenderness, "you don't have to be afraid."
"Why not?"
"Because I'll slay monsters for you."
Dean ..... Oh my god ! Quick , somebody get me a husband like him !
"Dean."
"Easy, beauty…" He presses his mouth to the tears that have slipped from the corners of my eyes and down my temples. His breath rasps against my ear. "Come first, and then I'll fuck you."
I believe everyone of us have skeletons in our closet . Dean has them too . But that doesn't mean he is incapable of loving . There are times we question our ability to love . We try and find a way to find that special place with that special someone . That someone who can share our secrets and make the demons of the past go away . But sometimes , we just wonder , why bother . Why bother spilling that dark little part of our past and cloud our future . Let those skeletons be buried , deep within where no one can reach them . And Dean does exactly that . Is he right or wrong ? Well you be the judge of that .
The sex scenes in this book are amazingly hot ! But you know what I like about them . They aren't just fillers . They are soo much more than that . Brimming with emotions and intensity , they breathe their own life into the story ..
"Look at me." His order is low, rigid.
I stare at him, his face glistening with sweat, the burn of his eyes. I'm aroused by his anger, by his unyielding control. It's both an apology and a punishment, this frantic, desperate fucking.My playlist:
1) Shy that way - Tristan Prettyman ft Jason Mraz .
2) Ain't Nobody - Clare Maguire ( Breakage remix) .
3) Tip of my tongue - The Civil Wars .
4) King of Sorrow - Sade .
5) Stay - Rihanna ft Mikky Ekko .
6) Just give me a reason - P!nk ft Nate Ruess .
7) Edge of Desire - John Mayer .
8) Heaven - Depeche Mode .
9) Perfect Stranger - Civil Twilight .
10) Let us move on - Dido ft Kendrick Lamar .
Arouse definitely makes it to my ' most fav read of 2013' and Nina Lane to the ' authors to watch out for ' list ! Absolutely loved it ! A must read !