"Isn't it exhausting?" The pad of his thumb strokes my neck softly. "What?" "Keeping people out." "I'm not," I deny quickly, my voice faltering in betrayal as his words punch me in the gut. How can he see what I don't want him to see, what I work so hard to conceal? He's found a way in, that's how. Like a trespasser, he's invaded my space, breaching security and sliding in to take what I haven't offered to him.
O.M.G !!!!!
I'm tired ! I mean .... I LOVE THIS BOOK !
And the last few bits , like , from the 82% mark .... Damn !! I was all ...
Kacey and Trent ...
And everything they go through .....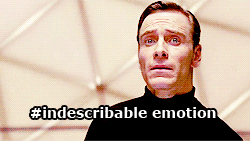 Amazing ..... !!!!
Full review to follow !