I was going to unravel. Unravel and rebuild until it was me her very fabric consisted of. Until nothing but me stained her logic, her existence, every fucking moment of her life.
, that was HOT !
Dorian Sorenson is a man who is lusting after Demitra Davis , his new intern and the daughter of his best friend Stephen Davis . His thoughts about involving her are down-right perverted and he always seems to be chastising himself mentally for even thinking like that . Little does he know that Demi is equally , if not more , attracted to him and wants to have him all for herself . What will happen when Dorian stops being a nutcase and finally gives into his
cravings
for Demi ? Well , you'll just have to read the book and find out for yourself .
The more I think about how I actually feel about this book , I find myself doing this :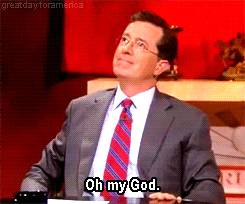 Why you ask ? Well , the book is fucking hilarious ! Dorian , although a grown man , ends up acting like a fucking teenager . Through out the book , his internal monologues about his thoughts and his feelings for Demi are enough to keep you snorting out with laughter .
Sample this :
She can probably sense that hard-on three miles away, you perv.
or this :
My dick weeped, envy running through its veins and replacing the burning blood that had been filling it.
or this :
I was going to die. Before she ever laid a hand on it, my dick was going to pop and send me into cardiac arrest.
The sex was insanely hot as well ! Damn , a coffee table can just be soo handy sometimes !!
I'm definitely reading the next book in this series to see where their relationship takes them from here on .