I was sure I didn't have a shot in hell at being what she wanted, yet I needed the confirmation in case I was wrong. "Tell me what you're looking for."
Her smile was breathtakingly beautiful. "I want truly, madly, deeply."
This has to be one of the most .... most .... make-the-butterflies-in-your-stomach-fly-real-high book I read this year !!!! Le sigh , I'm in love with this book . Would I call it cheesy ? NOOO ! would I call it corny ? NEVER ! I just dont know what to call it ! Its yummy and delicious . Its makes me all warm and fluffy on the inside . Its just that perfect book that talks about feeling falling in love . Feeling all the heartaches and risks that comes with it . All I can sit here and do is sigh , sigh away happily and wipe away the tears that fell out of my eyes without me realizing that they were there in the first place .
Yes I very much need that ....
Cue *
Heaven - The Fire Theft
*
For those of you who've read Going Under , you'll know that this is basically Payton's story . Who is Payton you ask ? Payton is Claire's best friend . And who is Claire you ask ? Obviously you need to read the first book first . Is it necessary ? I think it is , because Claire and Jessie are part of this book too and they are sweet as hell !!!
Payton for me in book 1 was that extraordinary BFF from hell who believes in you even when you dont and knows you better than you do yourself . But here , oh lord she is sooo someone I could be BFF's with ! I loved how she stood up for what she believes is right . Even if it meant going against her parents wishes .
Nick Hawke is what we would call a total bad boy . He loves to race , is always looking for an adrenaline rush and doesn't do relationships . He likes to live the fast life . That is until he meets Payton Archer . Payton is unlike any other girl Nick has ever met . She doesn't drool on his feet and is obviously not turned on by his flirty ways and charm . But things start to look better for the two when Nick realizes he is ready to change his ways for Payton and Payton sees a different Nick underneath all that flirting and teasing . But there are so many things waiting to tear them apart . There's a skanky ho who wont take no for an answer , and then there's the whole division of class and society thing . You know , 'you dont deserve to love someone just because you dont live in our uber rich yet hollow on the inside neighborhood and dont have as much as we do' thing !!!
And I thought that , that happened only in India . But apparently haters and morons are everywhere and its inevitable to cross paths with them . You'll find one sooner or later !
This story bought out a lot of different emotions in me ! The beginning was all sweet and spice ! Nick constantly trying to woo Payton , but she refusing to budge from her stand . Then it got all soft and silky as Nick and Payton get to know each other and start defining their relationship and understand and explore each others feelings .And then things get all rough as they hit a block and everything seemed so wrong and undefined . This is the part where I was all an emotional mess . I guess I got too carried away in their relationship that it actually felt like I was watching my two best friends who love each other walk away from their feelings .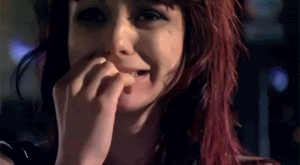 My favorite moment in the book is when Payton reads Nicks journal !!! I love that scene !
There's also a playlist at the end ! I love Georgia's taste in music ! Most of those songs were my favorite and it just made the reading experience a lot more exciting !!
A very sweet , emotional and touching story of two people falling in love against all the odd that life can possibly throw at you ! Its definitely a must read !