"We all lost our souls when we joined this band...... "
This was soo me , when I finished reading this book !!! It took me a few minutes to register the last few closing lines of the book and the chapter and then all hell broke loose , in my head !!! Holy hell , Karina Halle does it again ! Can this woman get any better ?? Hell fucking yeah ! She has gotz talents and the skillz to write ! The world needs to know her , ASAP !! Right now , all I can do is this :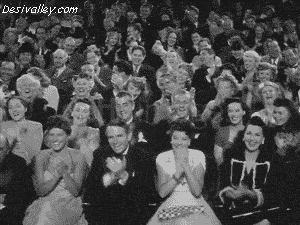 and this :
I'm usually like a 9 year old on crack when I finish a story by Karina , and this was no different . I ramble like an Idiot and talk aimlessly till I can settle my thoughts down .
Dawn Emerson is a music journalist who gets a 'once in a lifetime' chance to be on tour with one of her favorite bands
The Hybrid
. Dawn definitely has her own baggage's to carry in life , but she decides to give her dreams and aspirations in life a chance and makes up her mind to go onboard and experience the rockstar life . But what she doesn't count on is that this is no ordinary roadtrip . Its a journey to hell and she just happens to have a 'backstage' pass . What is in store for dawn and the band Hybrid , well read the book and find out for yourself . I'm sure as hell you wont be disappointed .
IT'S THAT 70'S SCENE !
The entire story is set in the 70's and you can actually see that Karina has put in a whole lot of research into this story . Right from the atmosphere to the clothing to the style sense , everything makes you feel that you are a part of the 70's . There were times I was wondering that she might have slipped up somewhere and mentioned something 2012-ish , but nooo . It was bang on perfect . The story quickly sucks you in like a black hole does and lands you up at this parallel dimension
if I can call it that
. I loved this whole time travel feel about it !!
ROCK&ROLL , SEX AND DRUGS !
Talk about reliving the rock scene from the 70's !! And not just the whole on-stage performance and stuff , but also the back stage action . Interaction with the groupies , the drinking , the drugs and the blow jobs and hand jobs that come with it , it's all there . Kudos to Karina's writing , she makes it seem so real that it actually feels like you are standing right there , probably in the corner somewhere and seeing everything !!! The kind of characters that she creates are intense and soo real . As a reader , you are sure to hate them , like them , adore them , love them but definitely not ignore them . Even if their presence is in tiny winy role , they still manage to make an impact on you . And the sex in this book ! Creepers , this is not a YA ! So the steam factor in this book is definitely hot !!! I mean seriously , you cant write a story about a bunch of rockstars with hot bods and hot voices and not write a sex scene amplifying their sexiness hotness !!! Somehow , the idea of having sex on a tour bus sounds very very intriguing !!!
AND LETS NOT FORGET THE DEMONS ...
okay just so we are clear , this book is scary ! Like pee/shit in your pants scary !! Some scenes , if you imagine them in your head , can guarantee you nightmares for sure !! Especially the demons and their whole demonic aura . For those of you who have read Karina Halle's EIT series , you already know the woman does scary like no other female author in the horror genre !! Say what you will , I think I'm gonna name Karina the " QUEEN OF HORROR " . The dreams that haunt Dawn , the monster who follows them around at night , the groupies from hell and the whole spooky aura that flows out of this book is enough to give you goosebumps !!!
HUNG BY THE CLIFFHANGER ??
Would I call the ending a cliffhanger ?? Well , yeah sort of ! Not that I didn't see it coming , but sometimes you just wish that things will go back to normal right ? WRONG !!! If you are a Karina Halle fan , then you should know that the woman doesn't make anything easy ! And she manages to pull that trick here as well . Just when
you thought , ' Oh thank god , I'm soo happy for them !! ' she goes all ninja on your heart and makes you go , ' Damn it ! what in the world ...... !!! ' Now don't think I didn't like it , I loved it !!! It just means more of Sage * swoon * and Dawn * lets kick those demon asses * !
Karina Halle delivers another , rocking , chart topping , heart thumping , jaw dropping , cold sweating , rockstar induced orgasmic story that is sure to make you curse , crack a smile and make you fall in love with its characters !! At times I found me :
and then there were times I was all :
Too much to handle I tell ya people !!!
Before I go go , you need to pick yourself a copy of this book and read it like ASAP !!! I need my Sage , Dawn and Jacobs fix so I'm going to be on pins and needles till the next book in this series comes out !!!!
5+ energizing yet soul sucking stars !!!