"Your hatred is my foreplay." - Julian King
Julian King is one hot son of a gun !!!!! Holy Moly was it hot in here when I was reading this book !
Oh by the way , for reasons unknown I kept picturing this guy as the insanely manwhore uberly handsome hot and exciting Julian King :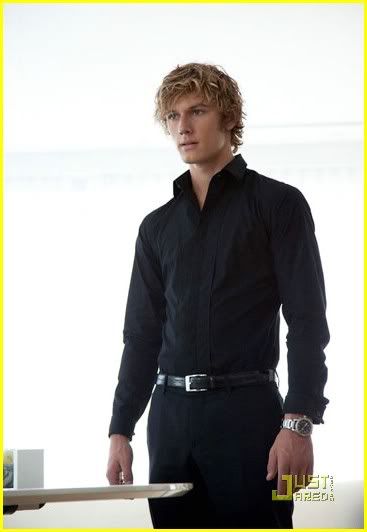 But more like with this hairdo :
* Swoooooooooon * soo fuckin tempting !!
I always keep my Ipod on when I'm reading and by some strange twist of fate ,
If I can say that
, this song started playing whilst I was reading this story and I thought its purrfect for this story , Julian and Heaven . So I decided I'm going to keep it as my cue music for this review ..
* Cue
Skin - Rihanna
*
Meet , Heaven Sevigne Deville . Heaven is a very controlled , enticingly cunning and a cold hearted woman when it comes to her work . She doesn't date , doesn't do casual relationships and keeps men at bay as though they are all poster boys for STD's . Her work , that is working for a top notch Law Firm and the fulfilling of her dreams in the only thing that matters to her .
Now meet Julian King , Son of Ayden King a 'on top of his game' Attorney . Julian is gifted like his father when it comes to handling the toughest clientele's , but is also a self confessed Sex addict . He spends most of time screwing around his secretaries , ' special friends ' and more . All that sort of changes when he meets Heaven . Heaven and Julian , cant stand each other . Prior to what leads to the events that sets the basis of this story , Heaven and Julian have spent 3 yrs hating each other and bickering over cases . Julian's hatred for Heaven led him to build a dungeon in his basement . A dungeon that houses some of the kinkiest objects which he intends to use ....
on Heaven ...
Now thats some serious Issue you got there bud !!!
Lady luck decides to grace Julian King and he finally gets a chance to fulfill his dream . Heaven's one act of stupidity leads her to Julian and his contract . Either she signs up his offer of being
his
for the next 30 days or be ready to lose her job and let her dreams flow down the gutters . Ofcourse , she picks the former and thats exactly this book turns into a scorchingly hot page turner . Add to this a mystery stalker and the perverted attempts to tarnish Julian's reputation and we have a story thats worth your time !! Oh and for over 700+ pages , this definitely did not feel like overly long at all !
The yaaaaay factor :
First of all , THE COVER !!!! OH.MY.GOD , soooo .... phew .. Ice packs .. right now !!!
. I loved the setting that was used in this story . I have somewhat come to believe that lawyers and advocates and some of the sexiest shit out there , I mean they can talk , like really talk and it was nice to see these two really ' known for their game ' lawyers get their freak on ! I loved Julian and Heaven's characters . They are both flawed and similar in their own way , they were perfect for each other . I loved how Heaven wasn't a cry baby type and took whatever came out to haunt her with her ' big girl panties' on . I also loved the steam sex that book was sooo full of ! God dammit , that cookie scene stole my breath away ! Julian was yummy all the way . From his alpha male-ish hotness to his possessiveness that can melt your knees he was downright scrumptious !!!
The ending , although seemed hurried , was a good one . I just wished the epilogue could've been a little longer . But it made me happy so what the heck !
If you love your books with a little drama , a little action , a little comedy , a little ' toe curling romance and whole lot of sex , then this book is a must read !!!