HOLY MOTHER OF SMOKIN HOTNESS !!! I think i'm running a temperature here !! Let me just direct you to some of expressions and reactions while and after reading this ... this ... this ... ugggh I cant think of the word that I need to use right now , as I write my review okie !!
So , When I started reading Bared to you by Sylvia Day I had no freakin clue that this was being compared to Fifty Shades of Grey . It was only in the course of my reading time did I realise and find out that it was . Let me tell you this .....
DO NOT COMPARE BARED TO YOU TO FIFTY SHADES OF GREY !!! ITS FREAKIN NOT FAIR TO EITHER OF THEM ! BOTH ARE AWESOMENESS IN THEIR OWN FOLDS ! DONT MESS UP THE EQUATION AND THE JOY OF READING BOTH THESE AMAZING STORIES !
*exhales * much better ..
Bared to you is the story of Eva , who meets Mr Dark and Dangerous Gideon Cross and is sexually enticed by him from the day she meets him . All she wants to do to this dark and brooding son of a gun is
src="http://i643.photobucket.com/albums/uu154/hockeygrl125/gifs/0038bbe7.gif" border="0" alt="ohmygod Pictures, Images and Photos"/>
uh huh yup exactly that and so mich more !! Anyways , moving on .. what she doesnt expect is that Mr I'm-sexy-and-i-know-it is equally interested in her and dreams of making her come
* coughs coughs *
Excuse me while I filter my head of all the raunchy images .... so yeah , Eva knows that its not quite safe to get involved with this beautiful stranger coz he spells Trouble with a capital T . But she cant help it , her body and her mind wont let her . They always end up getting 'Hyper'and 'Active'in his presence and whats more amazing is that he knows it ! He knows how easily she'll
* read - her body *
will react and respond to his approach . Now , if the only thing your brain is yelling at you right now is that this book is only about some hot and steamy sex then i'm gonna have to stop it right their . This book is just not about Sex . Although I would have to agree that it definitely has a lot of sexy and steamy sex scenes , for me it was much more than that ! Let me explain .
First of all the cover speak . Two words - Gorgeous cover . Very hot and scrumptiously sexy . That is all .
Things I loved and disliked about the book . I loved the tale Sylvia Day has managed to spin for us . Its predictable and quite unpredictable at the same time . And I really loved that . The characters are just WOW !! Eva , well one minute I was totally all teary eyed and sad because of her traumatic past
src="http://i162.photobucket.com/albums/t264/Chakrah/Gif/Crying.gif" border="0">
and the next I was irritated at her constant running away . Honest to god , I wanted to drag her back to Gideon by her hair .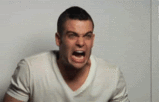 ... hufff just so frustrating . Now lets talk about the man himself . Gideon Cross . I swear i've never loved a controlling and a possessive man as much as him ever before . I seriously have to say this ,
HE IS GOING TO FUCK YOU SENSELESS
- there i said it !! The man is just .... just ... OH MY GOD SEXY and he is such a tormented soul . I literally cursed Eva everytime she decided to run away for him . I cant wait to find out what his traumatic past is all about as Bared to you just lives us on a brink of curiousity .
A lot of issues that this book talks about made me want to think out . Everyone keeps talking about love and how you manage to see rainbows and stars when you find that special someone . But what if you've been so battered and bruised that you just cannot bring yourself to see the stars and rainbows ?? What if the darkness and the demons of your past are so horrid that lightness of hope to find someone to accept you and your demons alike seems as an impossibility ?
Well Bared to you was just that for me . Even though Gideon and Eva's love is more of physical in nature , I could'nt help but feel that thats what made their connection stronger . Although Gideon is yet to share his demons with Eva , Eva still knows a lot more about him than anybody else does . I seriously cannot wait for Deep in you , Book 2 in the Crossfire series as to see whats in store for Gideon and Eva .
My playlist for this book ( In no particular order , just random songs that I thought fit the bill ) :
1) Come undone - Duran Duran
2) Mercy - Duffy
3) Paradise Circus - Massive attack ft Hope Sandoval ( Gui Boratto Remix )
4) Come Over - Estelle ft Sean Paul
5) Slow Down - Morcheeba
6) Frozen - Celldweller
7) My love - Justin Timberlake ft T.I
8) Only Girl - Rihanna
9) You're making me high - Toni Braxton (DiFrankz' Chillout Experience Mix )
I absolutely loved this book and have now become a huge fan of Sylvia Day . I need to get my hands on her books like right now !! Recommended for ladies who love:
-to watch an absolute control freak lose control .
-who can you make you pant and moan for all the wrong reasons and
-who knows the rules of a brazilian wax just as intimately as you do !!!
This ones a must read from me !!